The Dongler® easily and securely connects various mobile devices to projectors, video walls, TV's & Monitors. Ideal for presenters, trade shows, offices, hotels, churches, gaming and the home.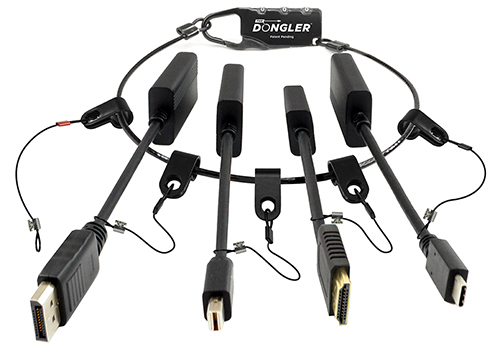 The Dongler® Loaded comes in various configurations of pigtail dongles already loaded onto The Dongler®. Our most popular configuration is our ProAV 4K HDMI Dongle Adapter Ring that comes preloaded with the highest quality 4K compliant HDMI dongles supporting HDR and bandwidths up to 32Gbps.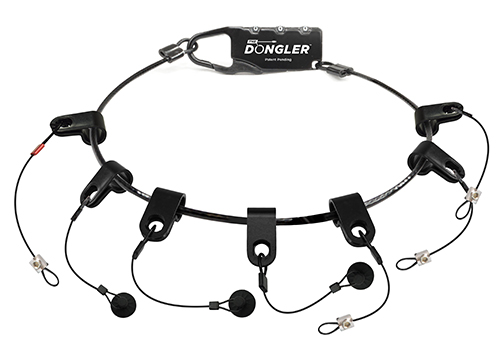 The Dongler® Unloaded is a true universal dongle adapter ring holder. If you already have pigtail dongles or adapters this is the right solution for you. Any brand of dongle or adapter can be easily & securely attached to The Dongler® using our Dongle and Adapter Harnesses.
Do You Want to Purchase The Dongler®
Locally?
What makes The Dongler® different from any other solution?
Our founders are leading developers with HDMI and DisplayPort technologies. Their cable and interconnect technologies are already sold worldwide in the ProAV and Networking industries. Prior to The Dongler®, no other ring type solutions supported the latest 4K technologies. So, with the help and recommendations from leading AV industry professionals in the USA and Europe… The Dongler® was born.
We developed The Dongler® to be a true universal HDMI dongle adapter ring holder. No matter the brand or type of pigtail dongle or adapter, all can be quickly and securely attached to The Dongler®.
Secondly, our industry leading dongles support the latest 4K HDMI, DisplayPort and USB standards. Our dongles support HDMI v2.0b with 4K@60 4:4:4 18Gbps plus HDR; DisplayPort 1.4 supporting 4K/8K up to 32Gbps (input); and USB Type C 4K.
The quality of our dongles is unmatched in the industry. We feature aircraft aluminum housing for better heat dissipation that is necessary for any true 4K content. We tested so many brands of dongles and adapters and found that most of them only supported up to 9Gbps… which isn't even 1080p and so far away from the 4K@60 4:4:4 18Gbps that is becoming standard today.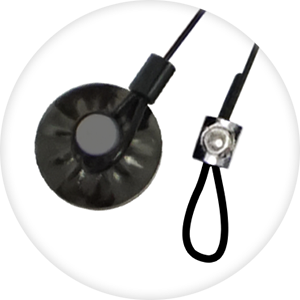 DONGLE & ADAPTER HARNESSES
Dongles and adapters are connected to The Dongler® by the way of "Harnessess". This allows for fast and easy attachment of any brand pigtail dongle or adapter.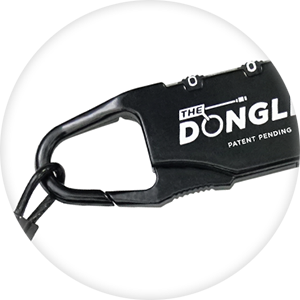 Combination Lock for security and easy changing of Harnesses. No tools to lose.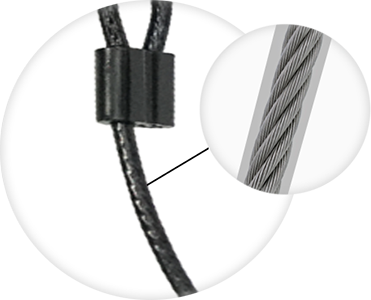 The Dongler® consists of a plastic-coated cut-resistant steel ring connected to a combination lock. This allows for easy dongle & adapter changing and anchoring The Dongler to desks, tables or any secure structure. The dongle/adapter harnesses are also plastic-coated cut-resistant steel for securely holding your dongles and adapters.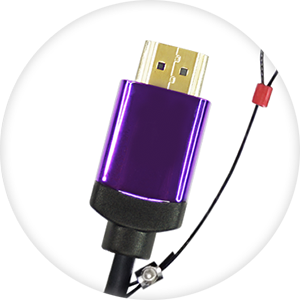 The Dongler® is attached to the HDMI cable infrastructure using our HDMI Cable Harness. Again, fast and easy. Also, no clamping to the HDMI cable. The last thing you want to do is put any sort of clamp on the HDMI cable especially if you are running 4K content. Clamping a HDMI cable is like pinching a LAN or Category Cable… you just don't do that as it may negatively affect the cable performance.