Simply45® RJ45 Pass-Through Product Line
Simply45® the industry-leading brand for RJ45 modular plug innovation and performance solutions is proud to introduce our Pass-Through RJ45 Modular Plug Product Line. The Simply45® Pass-Through RJ45 Product Line has the most innovative and ground-breaking improvements to RJ45 design and performance since the introduction of the original pass-through RJ45.
For a history of Simply45's experience with pass-through RJ45 and LAN cable development and manufacturing, please visit our About Us page.
Simply45® Pass-Through RJ45 Modular Plugs are Simply Better Quality… Simply Easier to Use… and Simply More Affordable.
Simply45® Pass-Through RJ45 Product Line Series includes several very important features and benefits that are not found on another brand's pass-through RJ45 modular plug termination systems:
Improved Pass-Through RJ45 Modular Plug Design
Simply45® re-engineered the pass-through RJ45 modular plugs from the ground up. The first thing we did was evaluate the electrical and signal performance of the previous pass-through RJ45 modular plugs and we found many issues that needed to be re-engineered to support today's RJ45 applications.
These design changes include: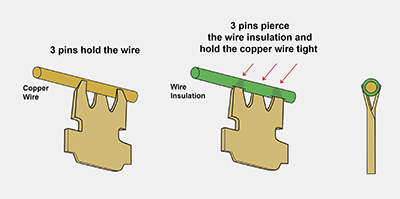 Use of 3-Prong Pins versus 2-Prong Pins. Most pass-through RJ45 modular plugs used only a 2-Prong Pin design. This is the wrong type of pin structure for today's RJ45 applications. Simply45® only uses a 3-Prong Pin design that works best for both solid and stranded wire conductors. A 3-Prong Pin provides 3 points of contact with the copper wire conductor instead of 2. This improves electrical performance and signal integrity. A 3-prong pin holds onto the wire conductors much better and does not "pop" (2-prong pins are susceptible to "popping" over time. This can cause the pin to pop up back into the plug and no longer hold onto the plug. This can happen anytime over the history of the termination and cause numerous troubleshooting problems.) If a pin becomes loose over time it will cause resistance. Resistance creates heat. Heat can be catastrophic from causing termination failure or shorting in the RJ45 socket. Important Note: 2-Prong Pins should never be used with PoE/PoH applications. Use only 3-Prong Pin RJ45 modular plugs for any and all PoE/PoH applications.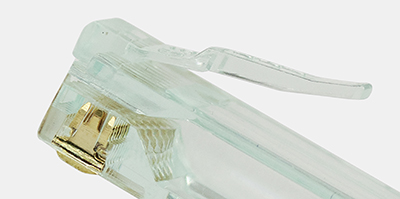 Use Correct Base Metals for the Pins. With the "race to the bottom" to provide the cheapest priced RJ45, other manufacturers have resorted to making serious compromises in the quality of the RJ45 plug. Most RJ45 plugs on the market today DO NOT use the correct amount of 24ct gold pins and they use cheaper base materials for the pins. This significantly lowers plug performance and causes higher resistance. The correct specifications for RJ45 require the use of 50µ micron thick 24ct gold plated over a phosphor bronze base metal coated with 100µ of nickel plating. Why is this important? Phosphor bronze is an alloy that is very hard and has excellent electrically conductive properties. However, do you know what happens if you put gold directly on top of copper? It is called "diffusion". The copper oxidizes into the gold causing tarnishing. This negatively affects electrical performance. To solve this problem, the highest specifications for RJ45 manufacturing require the use of a nickel barrier to be placed over the phosphor bronze. Simply45® uses 100 microns of nickel plating over the phosphor bronze base. Then we apply 50µ of 24ct gold plating on top of the nickel plating. This provides the highest level of electrical signal performance over the life of the termination. Simply45® now provides a Limited Lifetime Warranty on all of our RJ45 modular plugs. The cheaper RJ45 pass-through plugs on the market don't use true 50µ of 24ct gold and they don't use the correct base metals. If you are a network professional, you don't want to risk your reputation by using cheap quality RJ45 mod plugs. All RJ45 are not created equal and it is important for professional installers to use the right RJ45 modular plug solutions for their system installations.
Internal RJ45 Plug Designs Matched to Specific Wire & Cable Sizes
There are two important factors when choosing the correct Pass-Through RJ45 plugs to use:
The diameter (OD) of the twisted pair wire conductors;
The diameter (OD) of the LAN cable being uses.
Simply45® spent significant development time and resources to design pass-through RJ45 modular plugs that are OPTIMIZED to specific wire conductor sizes and LAN cable diameter sizes. This required making internal design manufacturing changes to each Simply45® Pass-Through RJ45 Modular Plug.
Matching the right plug design to the right cable is critical for maximizing the terminated cable performance. Every Simply45® pass-through RJ45 modular plug is clearly identified to work with specific ranges of wire conductors and LAN cable diameters.
Color Coded Pass-Through RJ45 Modular Plugs and Packaging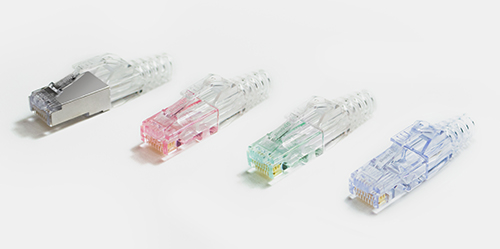 Up until Simply45® launched our Pass-Through RJ45 Modular Plugs, most RJ45 mod plugs were either a bluish tint or clear. To the naked eye, it was very difficult to tell a Cat5e plug from a Cat6 plug. Deciphering which plug is which can cause time delays and especially frustrating, as an example, when Cat5e plugs get mingled in with the Cat6 bag of plugs.
Simply45® standardized color codes for each pass-through RJ45 mod plug type so they would be easily distinguishable from one another. We then matched our packaged plastic jar lids with colors that matched the RJ45 mod plug tint. This then makes it easy to identify the RJ45 plug types in your installer kit or bag. No more wasting time to find the plug that you need.
Commercial Rated Pass-Through RJ45 Modular Plugs
Simply45® Pass-Through RJ45 Modular Plugs are Commercial Rated with the Highest Flammability Rating of any RJ45 modular plugs on the market and recommended to be used with Plenum cable. Our pass-through RJ45 plugs are UL94 V0 rated harmonized with IEC 60695-11-10. Simply45® UL94 V0 RJ45 mod plugs are rated for use with CMP Plenum cables and in Europe rated to comply with EN50575:2014 B2ca rated LAN cables. These are the highest rated Pass-Through RJ45 modular plugs. The Simply45® pass-through RJ45 modular plugs are the recommended solution for all commercial and residential installations and for any Certified System installations. Ideal for CM to CMP cables, and LSZH up to B2ca (EN50575:2014).
Simply45® Pass-Through RJ45 Modular Plugs are UL Listed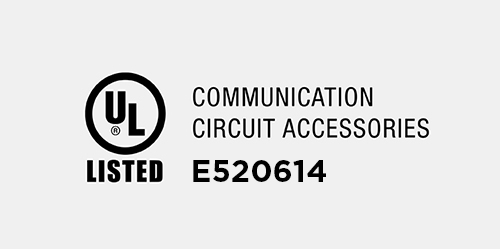 UL is the strictest 3rd party certification program in the world. Getting your products UL Listed is not easy and definitely very expensive. However, this is very important for any professional installer to know that they are using high quality Simply45® RJ45 modular plugs in their installations. Therefore, more and more professional integrators are asking for and using Simply45® Brand RJ45 modular plugs.
Simply45® Re-Engineers Pass-Through Crimp Tools
As important as it was for Simply45® to re-engineer the pass-through RJ45 modular plugs, we also had to rethink and re-engineer the pass-through RJ45 crimp tools to be more reliable and provide better pin sets and wire trimming. Simply45® redesigned the pass-through crimper to work easier, perform better, and perform longer than any other crimp tool on the market.
The first pass-through crimp tool released by Simply45® was our part S45-C100 (Simply45-Crimper). Our subsequent crimp tools include the features below and add more features that were requested by our professional installer network.
Simply45® Crimper Features include: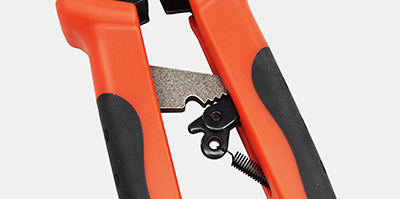 Ratcheted for Full Compression Cycle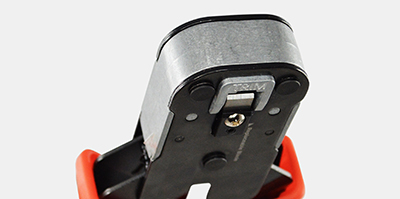 Reinforced Steel for Greater Stability
Improved Trimming Blade Design for cleaner and flusher pass-through wire trimming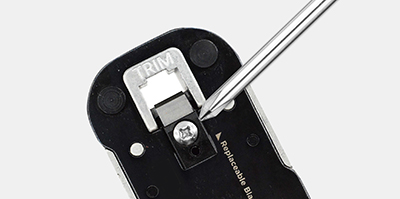 Easy Blade Changing – One screw to remove, no blade adjustment necessary. Fast and Easy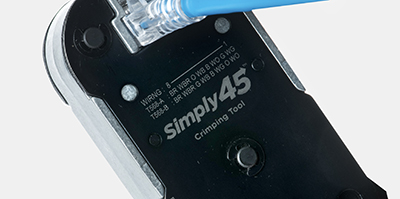 Wire Pattern Alignment Where you Most Need it located right under the crimp socket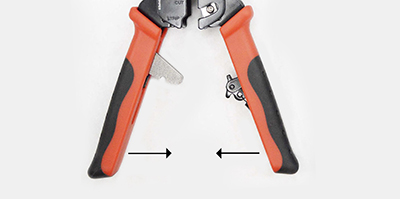 Synchronized Handles for Smoother and Easier Crimping Cycle
The Simply45® Pass-Through Crimp Tool also works with the Platinum Tools EZ connectors.
Integrated Strain Reliefs/Boots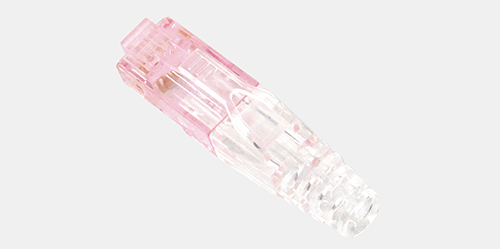 Strain reliefs are very important for protecting the integrity of the terminated RJ45. Many installers however, skip the step of using strain reliefs. RJ45 Termination Best Practices insists that you use strain reliefs (boots) with all RJ45 terminations. Some installers use the over-boot strain relief style. This style of strain reliefs makes the terminated plug wider and can be difficult to use with many panels.
Simply45® strain reliefs are very narrow and are integrated into the RJ45 plug during the crimping process. Simply45® strain reliefs are the same width as the plug itself so they provide excellent room between panel ports allowing easy access to plug.
Simply45® strain reliefs are also UL94 V0 rated for all commercial and residential installations.
Affordable – Simply45® Pass-Through RJ45 Modular Plugs are Less Expensive than Many Other Brands
With all of the features, design improvements and quality of materials used with the Simply45® Pass-Through RJ45 Modular Plugs you would expect our Pass-Through Series to be way too expensive. That is not the case. Our pass-through RJ45 modular plugs and crimp tools are competitively priced and typically at least 20% or more less expensive than many other Pass-Through RJ45 brands.
Current Simply45® Pass-Through RJ45 Product Line Listing
Simply45® Unshielded Pass-Through RJ45 Modular Plugs for 24AWG Solid (Cat5e UTP), 28-26AWG Stranded (Cat5e/6 Stranded), Max Lan Cable OD 6.10mm (0.24″), UL94 V0 Commercial Rated, Blue Tint – 100pcs/Jar
Simply45® Unshielded Pass-Through RJ45 Modular Plugs for 24AWG Solid (Cat5e UTP), 28-26AWG Stranded (Cat5e/6 Stranded), Max Lan Cable OD 6.10mm (0.24″), UL94 V0 Commercial Rated, Blue Tint- 50pcs/Clam
Simply45® Shielded Internal Ground Pass-Through RJ45 Modular Plugs for 24AWG Solid (Cat5e STP), 28-26AWG Stranded (Cat5e/6/6a STP Stranded), Max LAN Cable OD 6.10mm (0.24″), UL94 V0 Commercial Rated, Blue Tint- 50pcs/Jar
Simply45® Unshielded Pass-Through RJ45 Modular Plugs for 23AWG Solid (Cat6 UTP), 26-24AWG Stranded (Cat5e/6 UTP Stranded), Max LAN Cable OD 7.0mm (0.276″), UL94 V0 Commercial Rated, Green Tint – 100pcs/Jar
Simply45® Unshielded Pass-Through RJ45 Modular Plugs for 23AWG Solid (Cat6 UTP), 26-24AWG Stranded (Cat5e/6 UTP Stranded), Max LAN Cable OD 7.0mm (0.276″), UL94 V0 Commercial Rated, Green Tint- 50pcs/ Clamshell
Simply45® Unshielded Pass-Through RJ45 Modular Plugs for 23AWG Solid (Cat6/6a UTP Solid), Hi/Lo Stagger, UL94 V0 Commercial Rated, Red Tint- 100pcs/Jar
Simply45® Pass-Through RJ45 Crimp Tool for UTP & Internal Ground Shielded Pass-Through RJ45 Mod Plugs, Built-In Stripper/Cutter – 1Ea/Blister. Previous Part No: SIMPLY45-CRIMPER
Simply45® ProSeries All-In-One RJ45 Crimp Tool for All Shielded & Unshielded Simply45 Brand Pass Through & Standard WE/SS (8P8C) RJ45 Mod Plugs. Includes: Tool Lock, Click Socket, Blade Storage, Stripper/Cutter – 1Ea/Blister
Simply45® Built-in cutter and stripper. Includes push button tool handle lock. Color wire chart for T568A/B and RJ11/12 – 1EA/BLISTER
Replacement Blades for Simply45® RJ45 Crimp Tools- 1 set of 2 blades – Clamshell